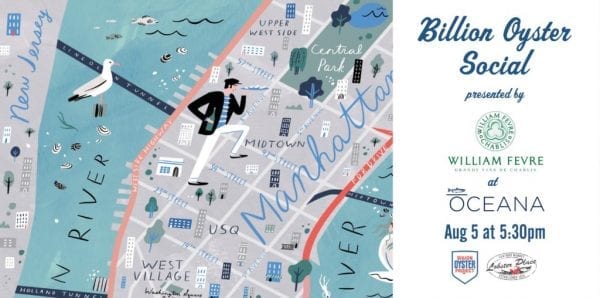 Monday, August 5 at 5:30 PM
OCEANA 120 WEST 49TH STREET NEW YORK
Celebrate National Oyster Day with Billion Oyster Project, on Monday, August 5, with an intimate oyster and wine tasting at Oceana. Guests will enjoy a half-dozen oysters, prepared in a variety of ways by Chef Bill Telepan. Each oyster preperation will be prefectly paired with wine compliments of our friends at William Fèvre.
Dotted through the tasting will be discussions on the oyster pairings, oyster's role in the ecology and history of New York, and an overview of the Billion Oyster Project (BOP) and how to get involved.
Oceana is a valued restaurant partner of BOP's Shell Collection Program. Oceana donates its shells to support BOP's mission to restore oyster reefs to New York Harbor. The recycled oyster shells from the social will act as a growing substrate for thousands of baby oysters. In honor of National Oyster Day, Oceana will be donating 5% of sales from August 5th to Billion Oyster Project.
For more information click here